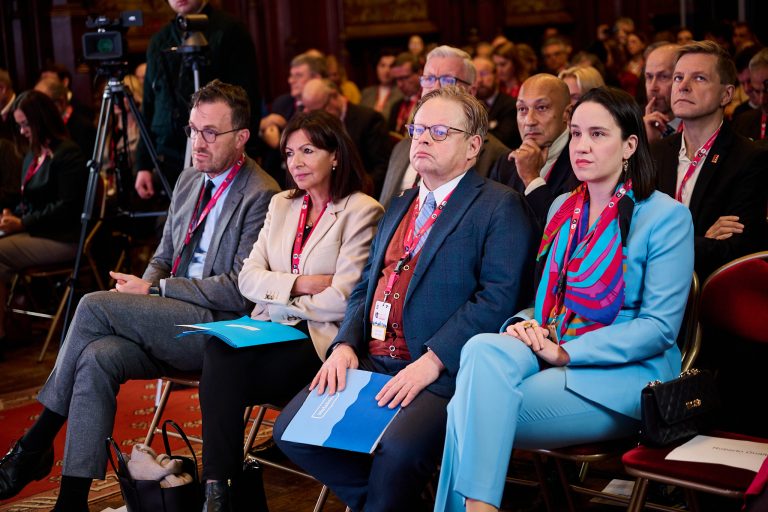 " Euro Cities | The time is now "
Share
Events , All Europe Countries , Ukraine Crisis
Euro Cities | The time is now
Mayors, European officials and investment experts gathered in Brussels on 28 November to discuss the economic future of the Kyiv capital region and rally financial support for its reconstruction.
News on Ukrainian crisis.

Kyiv Investment Forum participants signed a series of agreements that will prove crucial to sustainable recovery.

Marking a milestone for the embattled capital's economic future, the European Investment Bank will finance over €450 million to modernise Kyiv's transport system and encourage the city's sustainable growth.

Eurocities members committed to several city-to-city cooperation deals: among others, Rome will send power generators and humanitarian aid to Kyiv; Sarajevo pledged to support the Ukrainian capital's economic, cultural, touristic and educational recovery.

For the first time in seven years, the Kyiv Investment Forum took place outside of Ukraine where – nine months into Russia's invasion – attacks on power facilities are plunging the country into darkness. The emergency prevented Vitaly Klitschko, the Mayor of Kyiv, from attending the event in person.
Some themes that were covered are:
Looking beyond the war
Although the Russia-Ukraine conflict shows no signs of abating, participants agreed that now is the time to lay the foundation for the years to come.

In the EU's footsteps
The annual Kyiv Investment Forum took place almost four months after European mayors travelled to Ukraine and signed an agreement supporting sustainable rebuilding in the war-torn country.

Good practices to inspire Ukraine
Leaders of cities like Helsinki and Paris – both on a sustainable path – pledged to share successful examples and best practices with their Ukrainian counterparts.

Find more information in the article here