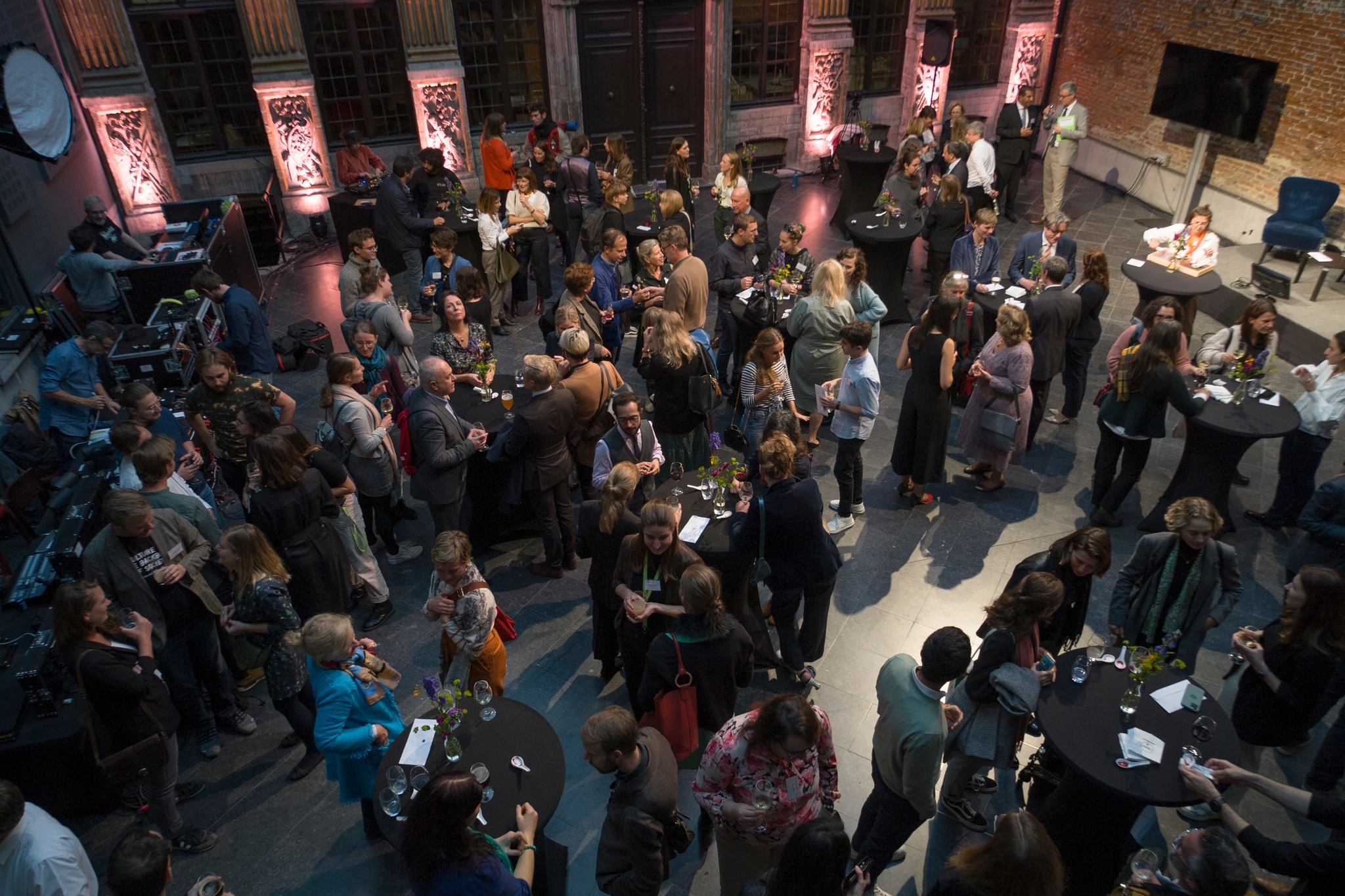 " Take a glimpse into the future of mobility "
Share
Spotlight
Take a glimpse into the future of mobility
Culture Moves Europe is the new mobility project making it easy for emerging artists to travel across Europe.
About Culture Moves Europe
Culture Moves Europe is the new, full-scale European cultural mobility scheme funded by the Creative Europe programme of the European Union and implemented by Goethe-Institut.

Artists and mobility have always been closely linked. From painting, to music and performing the exchange of cultural elements is an essential practice and a constant quest of the creatives. But how easy is it for them to travel abroad? Culture Moves Europe, the new project of Creative Europe aims to fill the gap between emerging creatives and the borders across them.
Culture Moves Europe launched last October with Cori Moore moderating engaging discussions with artists, European Commissioners, former grantees and creative guests. The event for the launch of the permanent mobility scheme for artists and cultural professionals took place in La Bellone, a cultural and creative center for artists and creators in Brussels. The new project is a continuation of i-portunus, which took place between 2018 and 2022. The program is being implemented by the Goethe Institute and has been funded by the European Commission with the impressive amount of 21 million euros, the most money ever received for a cultural program. Culture Moves Europe has a particular focus on emerging artists and their mobility.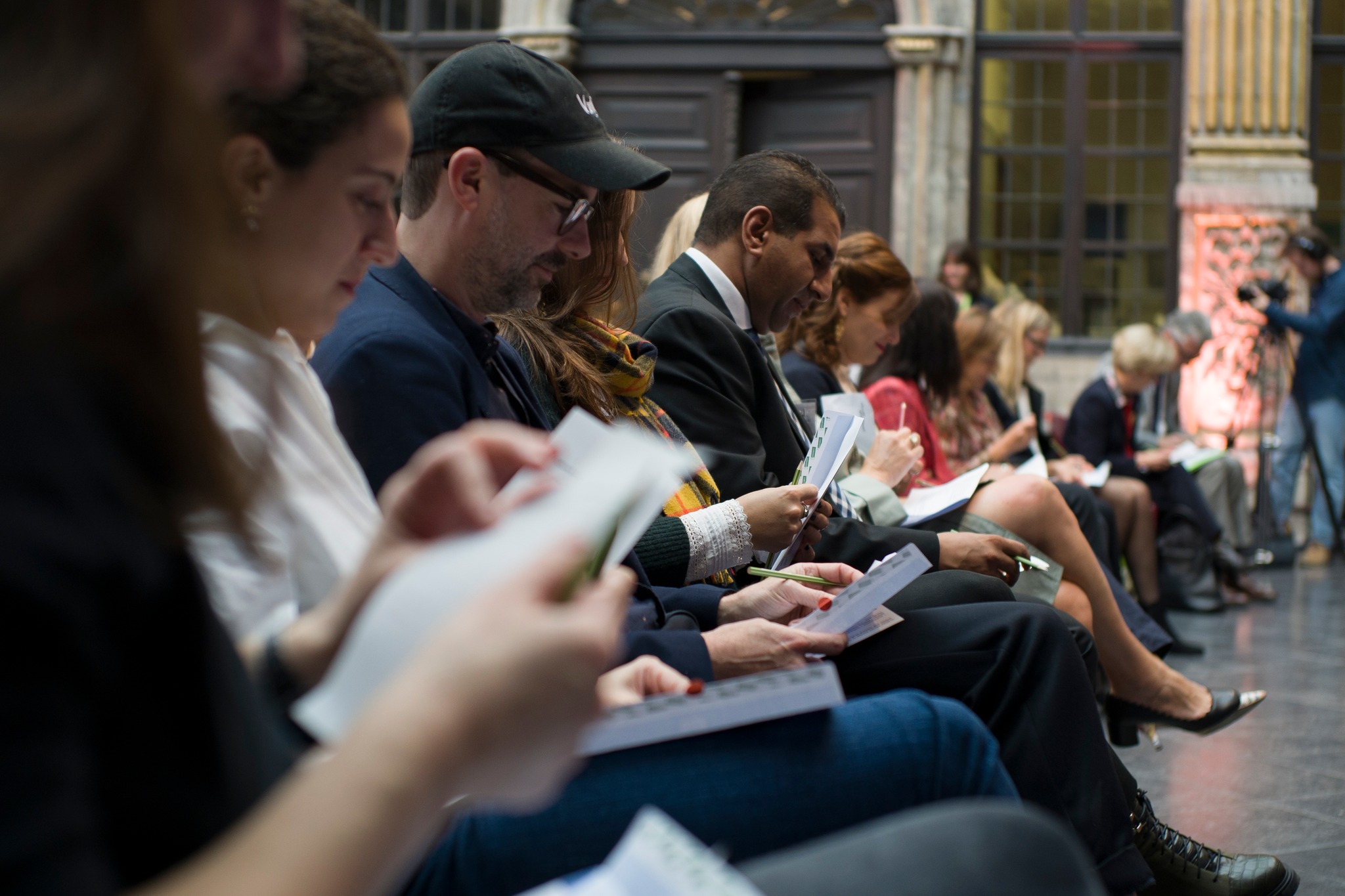 Mariya Gabriel, European Commissioner for Innovation, Culture, Education and Youth opened the discussion on the importance of cultural mobility as an engine of creativity through which artists have been creating communities along the way.
Without mobility, there is no diversity, only parallel separate traditions. Enabling artists to cross borders is to connect one's parallel line, fostering intercultural dialogue.
Gabriel also referred to i-portunus, a former scheme funded by the European Commission that supports the mobility of artists, creators and cultural professionals, implemented by consortia of cultural organizations. I-portunus empowered almost 900 artists and cultural professionals to move, join new communities and to co-create, through the experience. The participants of the i-portunus programs paved the way for Culture Moves Europe. Their feedback shaped this new action and will shape the experience of thousands more artists. The scheme will support around 7.000 cultural mobility projects within three years, with special pop ups leading to more inclusivity. The pop ups consider mobility options other than air travel, families, visas to facilitate administration and artists with special needs related to disability, who will have their costs fully covered.
Culture Moves Europe holds the power to be a stepping stone in their career, a chance to meet new partners, start new collaborations and open up to new audiences.
The stage invited Johannes Ebert, Secretary General of Goethe Institut considering how culture reflects the discussions, debates, inequalities and the actual situation in our societies.
After the first round of speeches, the audience welcomed the first performance of the event. Dancer and choreographer Radouan Mriziga, former i-portunus grantee for the Performing Arts created a performance by dancer Youness Khoukhou, moving in the rhythm of musician Jalil El Yazidi.
Culture Moves Europe prepared a presentation including a series of facts gathered from past mobility projects, in order to create a better and advanced experience for the upcoming grantees.
Between January 2020 and June 2022, On the Move analysed 1.266 calls for mobility opportunities for artists and cultural professionals in all Creative Europe countries. The most number of calls belonged in the cross-disciplinary sector.
For Serbia, North Macedonia, Georgia and Albania, more than 80% of the calls were part of projects supported by EU funding. 18.4% of the calls were supported by Creative Europe, Horizon 2020, Erasmus+ or special programs. "Environment and sustainability" is the most common topic for calls. However, only 10% of the calls with this focus encourage slow travel or make it compulsory.
Many calls state to be open to diverse applicants, particularly for disabled artists or practitioners, but only 1.9% of calls provide additional funding to meet access costs.
Only 9.1% of calls addressed "emerging" or "early career" applicants. Another issue lies on the term emerging itself, which often refers to "young" and generally people under 35 years old. Some allow applicants to self-define whether they are emerging or not. All these details together led to the making of Culture Moves Europe, an improved project that meets the needs of the present artists and creatives.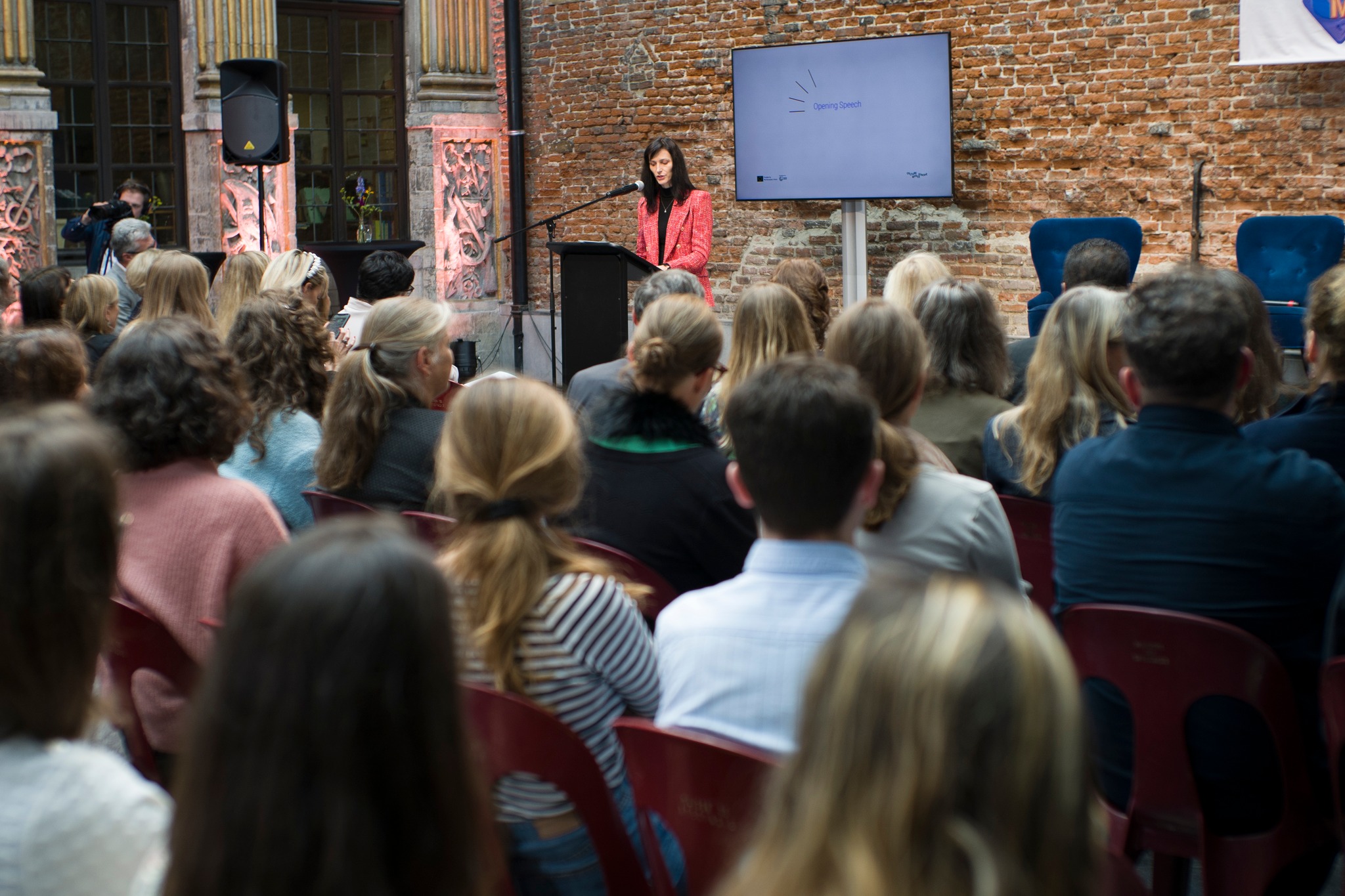 The second round of discussions focused on emerging artists, the difficulties they face in the beginning of their career and the mobility opportunities they have. Part of the discussion were general directors from different creative hubs across Europe as well as former mobility grantees, giving a sense from both sides.
Anastasia Lember-Lvova, artist and founder of De-Structura and Turan Ziaiemher, former i-portunus grantee addressed the challenges that young people face, including building their career from scratch, while also managing their finances, often doing projects for months without getting paid. Lember-Lvova also commented on the need to identify sustainable means of transportation for small distances within the mobility schemes.
Vassilis Charalampidis, President of the Board of European Creative Hubs Network explained that peer learning has been one of the pillar priorities of the network and aspires to see opportunities that interconnect the younger with the past generation.
Networking is not about visiting, it's about exchanging. Exchanging knowledge for artistic practice is what actually defines artists.
Another essential issue brought up to the panel was sustainability and mobility. Tom Bonte, general director of Ancienne Belgique and Liveurope, a network of 21 venues, explained his own vision on how to manage environmental impact. In Liveurope they make sure that if an artist is invited to one venue, they check the availability of other venues in the region where they can do another event.
The slow mobility tool that we now use is not lowering the footprint, but it's giving more impact. Commercial artists should adapt their tours to a more ecological model.
The second performance of the event was put on by Aurélien Oudot, performer and director of Back Pocket, a multidisciplinary acrobatic collective from Brussels.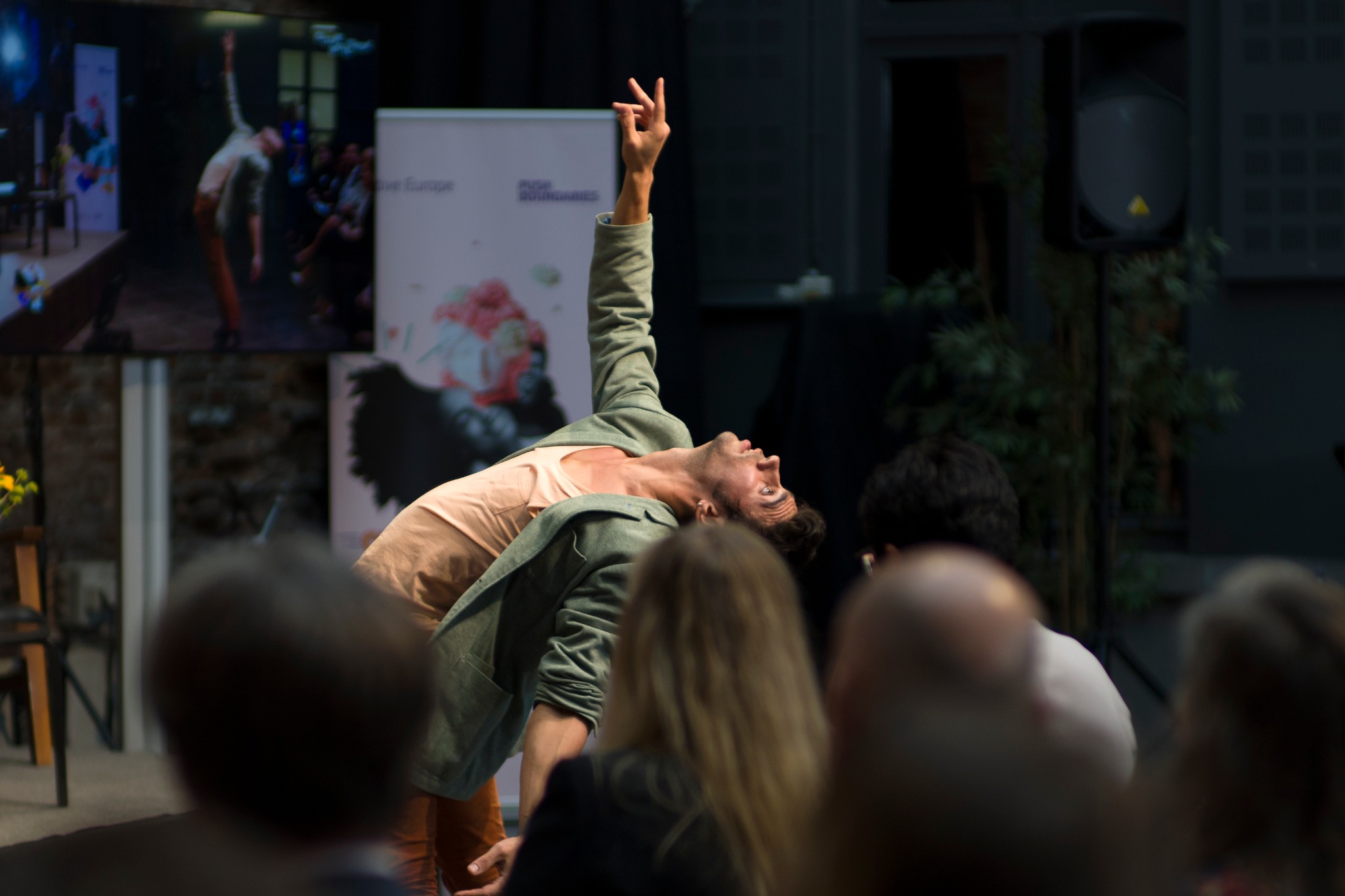 Culture Moves Europe came to an end with the final speech from Themis Christophidou, Director-General for Education, Youth, Sport and Culture of the European Commission. Christophidou explained the way every project is born, by listening to the artists' concerns and simplifying things in order to achieve an easier access to the funding.
Culture Moves Europe will lead to new and reaching co-creations with partners from other countries. I'm convinced it will be a success story like i-portunus has been.